Black Diamond Ascension Nylon STS Climbing Skins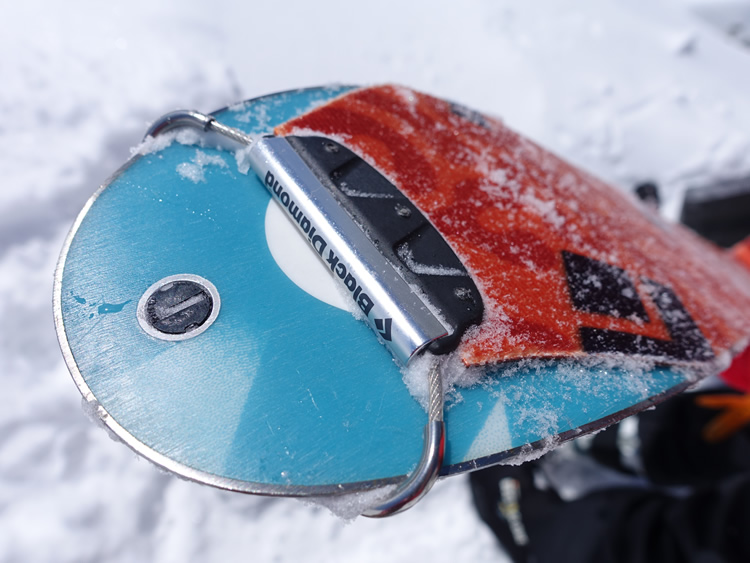 Black Diamond STS Skins Tip Attachment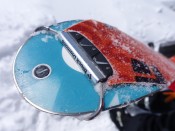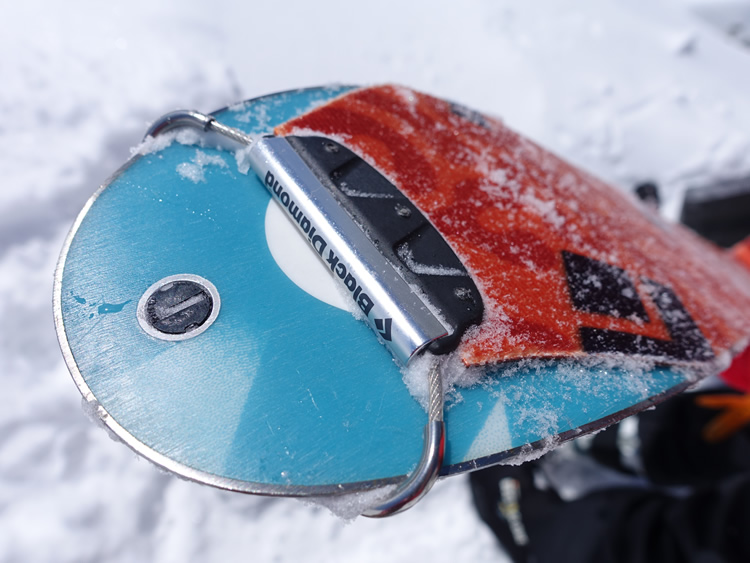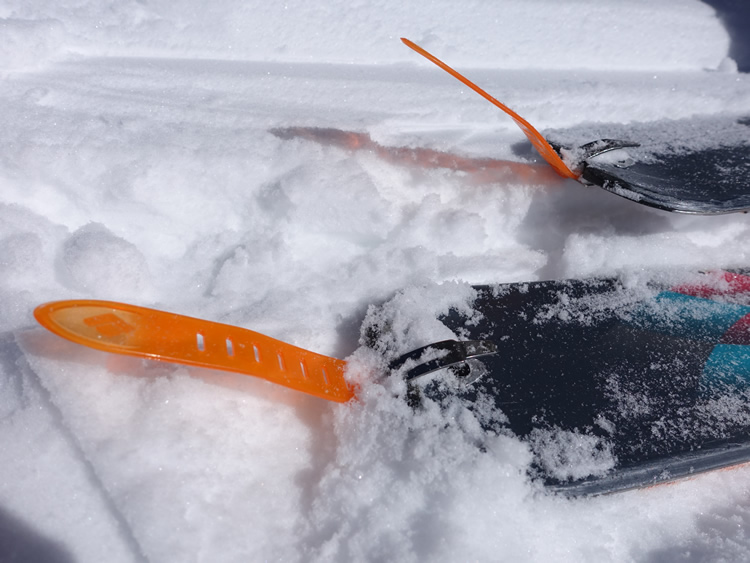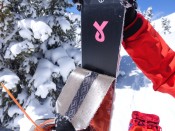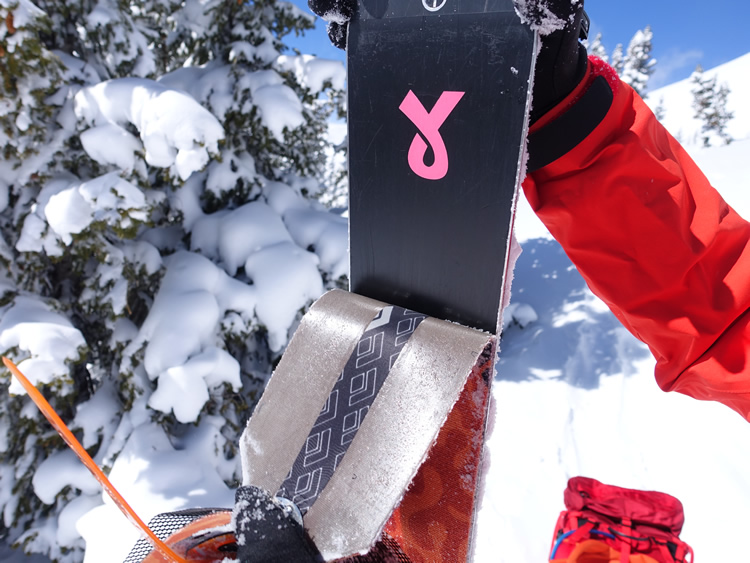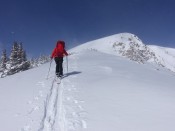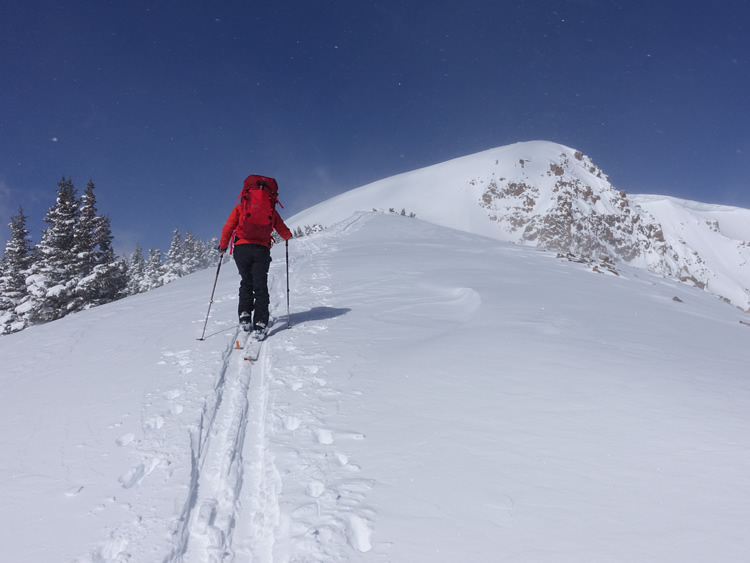 Retail Price: $159.95 - 169.95
Review
After a solid eight seasons of backcountry touring with my last pair of Black Diamond Ascension Nylon STS Climbing Skins, it seemed time for a new pair. It's not that the old pair had worn out. They still gripped the snow well and got me where I wanted, but a lifetime without the release strip left the glue on the bottom almost too sticky for my liking.
After considering the various Black Diamond options and checking out a pair of G3 nylon climbing skins, I ultimately decided to go back to old faithful and ordered a pair of the 2014-2015 Ascension Nylon STS skins. In making my decision, I considered the material. As we often climb to reach treed ski descents in the Colorado Rockies, traction was my primary consideration and objective, which nylon provides. Other Black Diamond options, such as combination mohair and nylon or straight mohair, provide increasingly more glide than nylon skins, but not the same amount of traction. In looking at the G3's, the skin material was quite different and felt less plush than my Black Diamond skins of new and old. I put more trust in Black Diamond's plush material, as well as Black Diamond's hardware and attachment points. Although I know others who have G3 skins and have no complaints about the tip attachment, I felt more comfortable with Black Diamond's adjustable tip loop attachment than the tip connectors that G3 features. Further, I can trust the Black Diamond tail attachment to hold my skins to my skis securely every time.
I've spent a season on my new Ascensions and have no complaints whatsoever. The process of trimming my skins to fit my skis was simple. The glue on the bottom has been sticky, without being overly so. I have found that if I'm not careful with how I handle my skins when donning and doffing them, that snow will stick to the glue, particularly in the tails, making them stick to my skis less when I put them back on. Thankfully, I've learned some tricks with my release sheet that come in handy in snowy and windy conditions. Applying the sheet to each skin as it comes off the ski decreases the chance of the strip blowing away, keeps the snow off the glue, and seems to prevent me from getting frustrated with the process.
For the 2015-2016 season, Black Diamond introduced a new nylon material for the Ascension climbing skins. They claim the new material is 20% lighter and more packable than their nylon skins of old, while still maintaining the traction, durability, ease of use, and efficient glide many of us have grown to appreciate.
Black Diamond is making their new skins in both STS versions and STD versions. The STS comes with their patented STS tail attachments, which provides up to 10 cm of adjustability in length for skis of varying length as in pervious versions, whereas the STD comes without the tail attachments for "simple and streamlined skinning". The new skins also feature a "pre-trimmed, bikini-style tail", which offers users reduced drag and weight.
Black Diamond claims the new Ascension skins for 2015-2016 are 750 grams (1 pound 10 ounces) per pair. They come in widths of 110 mm, 125 mm, and 140 mm. Of course, if your skis are narrower or in between sizes, the Black Diamond trim tool makes customizing them a snap.
Finally, one feature of the Black Diamond skins that could use some help and that I hope has been corrected with this season's models is the protective skin bag. Don't get me wrong, the skins come with a nice, zippered, part-mesh pouch, but it's a bit light and unruly, particularly in the wind, partly because of the snug fit with two skins and a release strip. I'm also unsure how long the mesh and zipper will hold. I've found a nice, durable stuff sack to use in the backcountry and reserve the zippered pouch for storage at home.
Skin bag aside, the Black Diamond Ascension Nylon STS Climbing Skins are an excellent all-around choice for backcountry skiing and touring. I look forward to many more seasons on my current pair of Ascensions, and someday, when the time comes, an upgrade to the newer version when my current pair need to be put to rest.
Tags: Climbing Skins
Your Comment or Question

*